Curtis High School
Classes of 1967, 1968, 1969
Curtis School Tour
October 6, 2018
| | |
| --- | --- |
| | Curtis High School is named after nationally prominent writer and orator George W. Curtis, who lived nearby. The school was the first public building built following the consolidation of Greater New York. It was part of a plan to erect a major high school in each of the outlying boroughs, with Erasmus Hall High School in Brooklyn, Morris High School in the Bronx, and Flushing High School in Queens being the other three. It was designed by the architect C. B. J. Snyder. The cornerstone was laid in 1902, it was completed and opened 1904. The original building of brick and limestone is dominated by a large square turreted tower inspired by English medieval models. The first principal was Columbia graduate Oliver Durfee Clark, who served 1904 to 1906. The second principal (1906–1912) was Harry Freeman Towle, a graduate of Dartmouth College. Additions were made to the building in 1922, 1925 and 1937. John M Avent (Columbia Graduate, author) was principal from 1924 to the late 1940s. Curtis was designated a New York City Landmark on October 12, 1982. The gym and cafeteria wings were added at a later date as additions to the original building's neo-Gothic architecture. (thanks to Marianne Schroth for this historical info) |
We met at the flagpole, then visited the principal's office for an overview, then met our tour guide, Mr. Salisi (not sure that's the correct spelling!). He has been a teacher at Curtis for over 40 years and has studied the building and its history in great detail. We learned so much. He said that Curtis was originally designed as the "jewel" of the New York City school system and has been maintained as such (over $120 million spent on renovations, additions and upgrades during his tenure).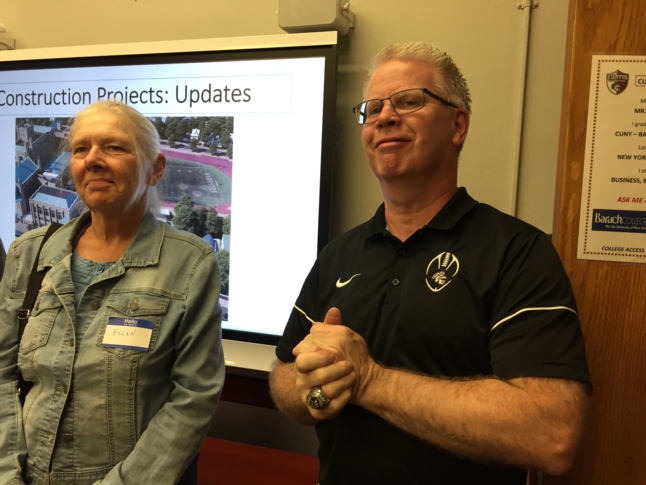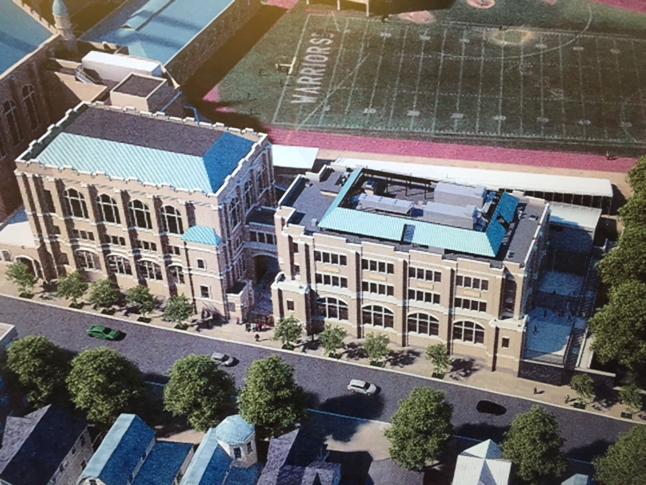 Principal Gregory Jaenicke talks about the new building completed in 2017 (right in photo). Notice how it has the same appearance from the outside. We toured this building which houses a new gym, media center and very up-to-date classrooms.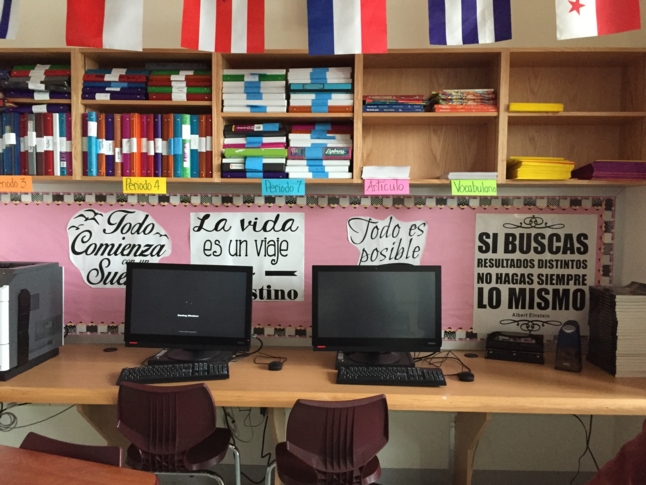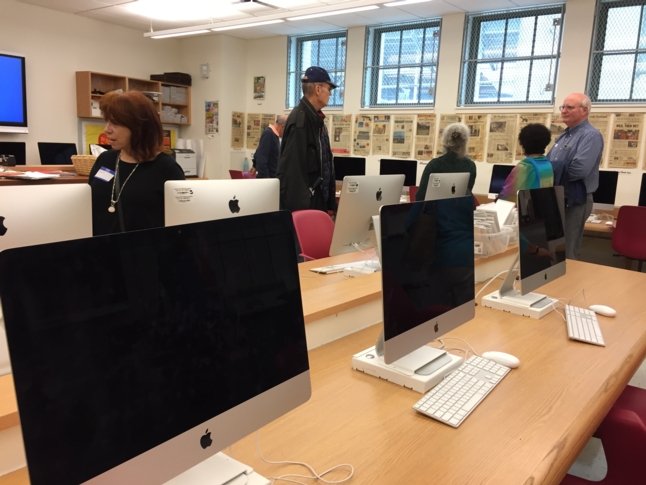 | | |
| --- | --- |
| | The new gym replaces the boys' gym of our high school days. The older building is currently being renovated. The old boys' gym will become a wrestling center and dance studio. The old girls' gym will not be renovated. A "bridge" will join the older building to the new building. |
The pool has not changed at all since our school days, except that a new air handling system was added when it became necessary to re-do the ceiling (it was falling down). Everyone now wears swimsuits that they bring from home!

We also visited the auditorium which has undergone many renovations but still looks much like we remembered it. The original seats (there even before our time) are still in use.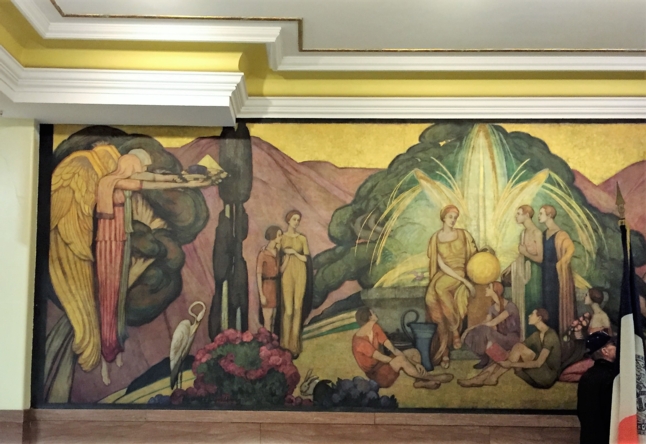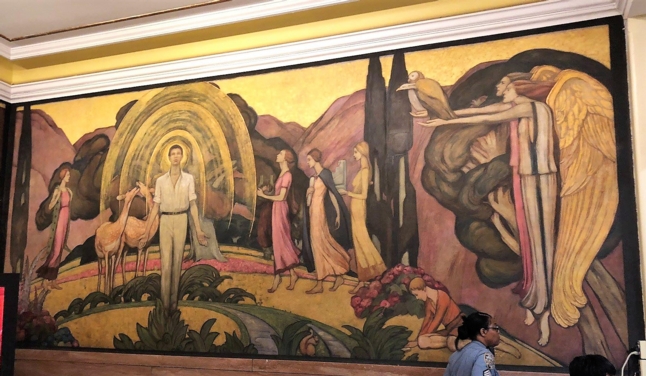 A real highlight of the tour was learning about the two murals in the lobby. The reason that we probably didn't remember them is that they were badly in need of a cleaning which was done in the early 1980's. They were painted in 1929 - 1930 by Florence Lundborg. She was a San Francisco born artist, who moved to New York after 1915. The murals were dedicated to the memory of the "Curtis Boy" who gave their lives in the World War (World War I).

"....we here highly resolve that those dead shall not have died in vain."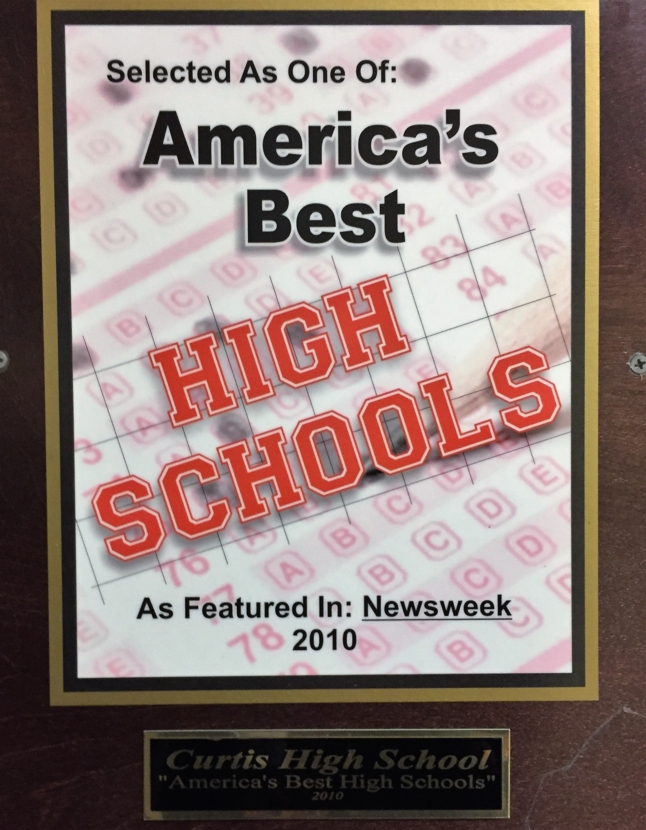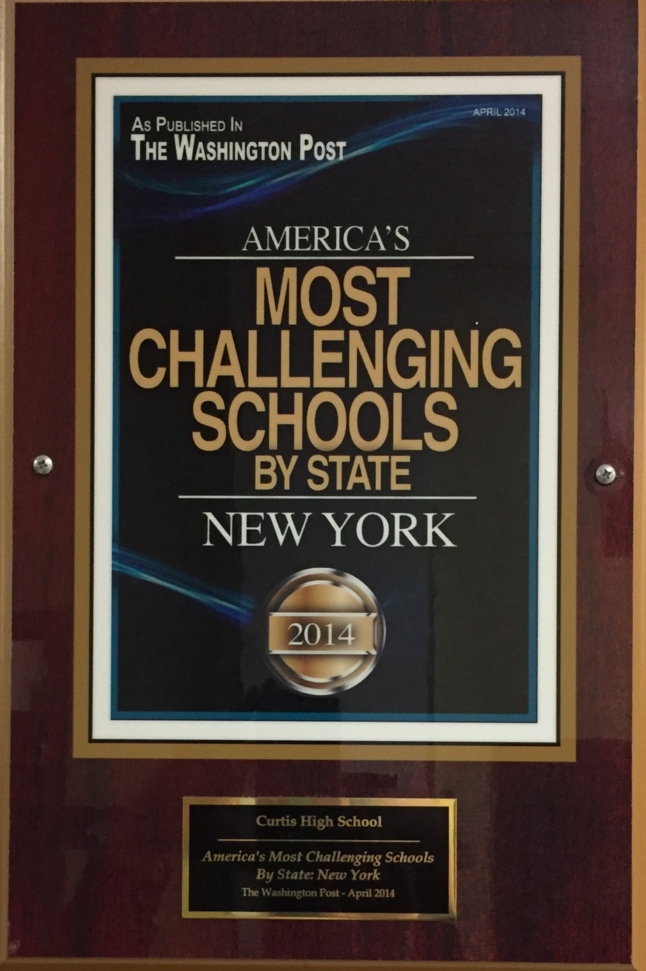 Click here to visit the Curtis High School website